How to create a Facebook custom audience from new Mailchimp subscribers
How to create a Facebook custom audience from new Mailchimp subscribers 

This guide will show you how to create a custom audience in Facebook that contains new subscribers of your MailChimp lists. To follow along in this guide you will need:
A MailChimp administrator login
A Facebook account with an ad account
10 minutes
A cup of coffee
Add a MailChimp source
If you already have a MailChimp source that you want to use set up, go to step 2. To set up a new MailChimp source, head on over to the "Sources" (1) tab in your Supercrowd account and click on "Add source" (2) and then MailChimp (3). Hit the "Connect" (4) link in the top right corner of the MailChimp block and then "Continue with MailChimp".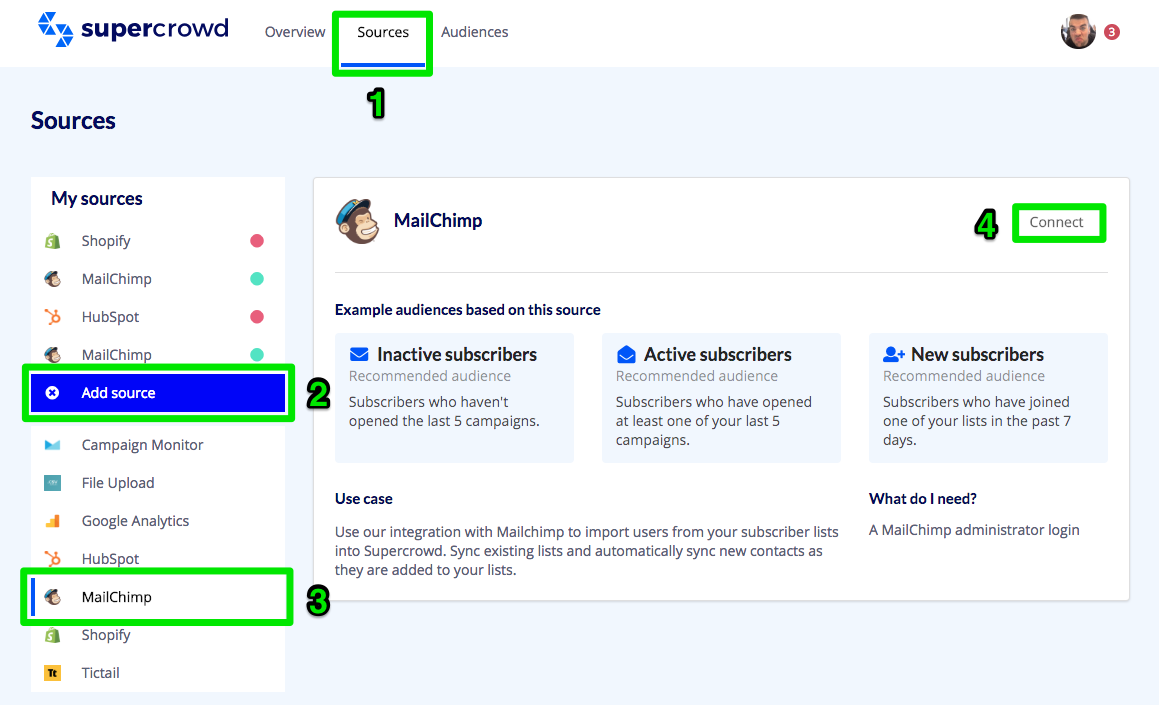 This will take you to the MailChimp authorization dialogue, login in with an administrator account to grant Supercrowd access to your MailChimp lists! After a successful authorization you will be redirected to Supercrowd again, give your new MailChimp account a name that allows you to keep track of it. You can have multiple MailChimp accounts connected at the same time so make sure you know which is which!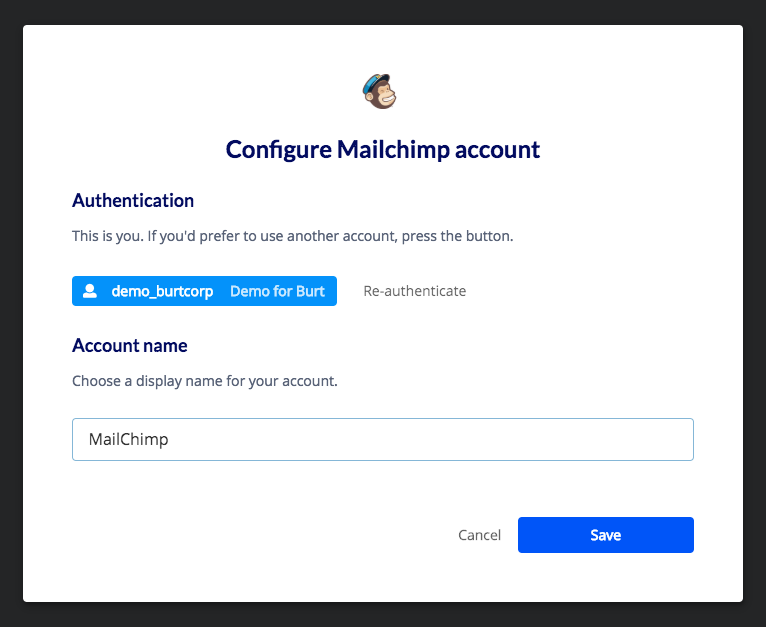 Once you hit "Save" Supercrowd will immediately start ingest data from your MailChimp lists. This may take a minute or two so enjoy some coffee, sit back and relax. When the sync is complete the spinner will change to a checkmark and the label will read "Connected". This means that we can move on to the next step and create our audience!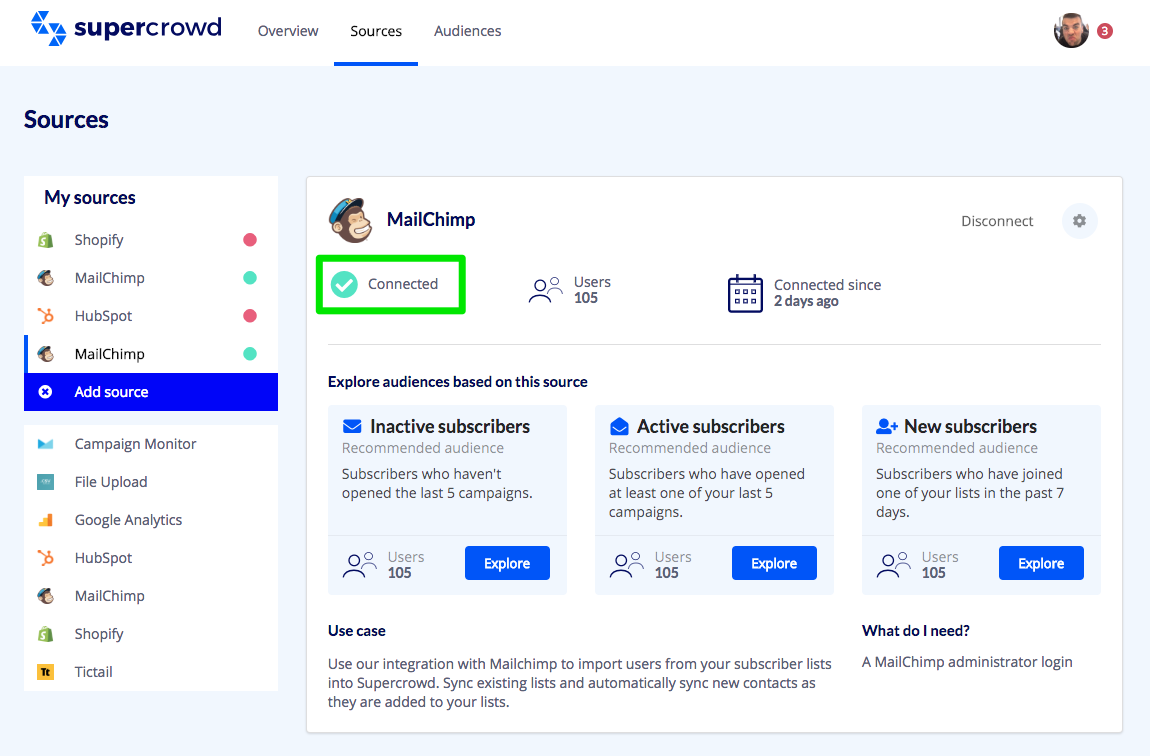 Create an audience of new subscribers
In order to create our new audience head on over to the "Audiences" (1) tab in your Supercrowd account and then "New Audience" (2) in the top right corner.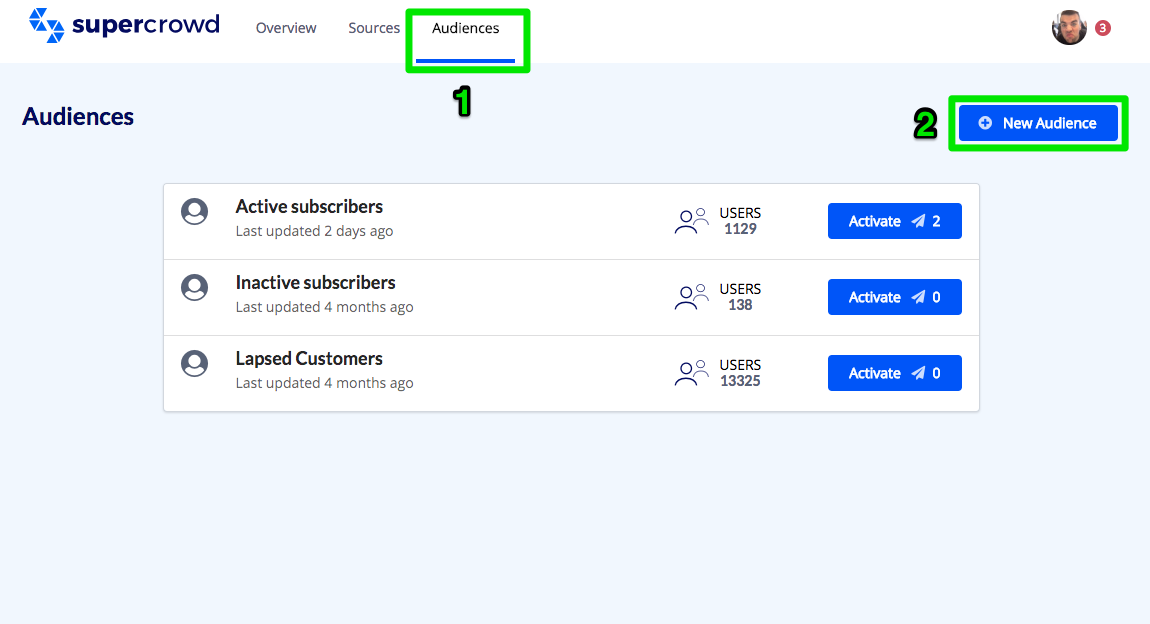 For each of the different types of sources the Supercrowd team has put together a number of commonly used audiences available as templates. You will find "New subscribers" as a template to use it just click the "Use" button on the right hand side.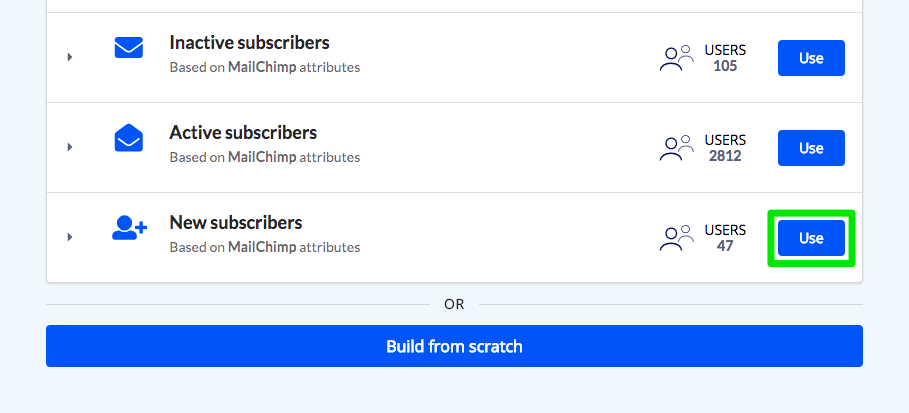 This will pre-populate your new audience with the title "New subscribers" and create a filter based on signup date. The default setting is that new subscribers are those who were added to your lists during the last 7 days but this is of course customizable (1). The statistics on the right pane will show you how large the audience is as well as a summary of all filters applied. You can change the name of your audience by using the input field (2). To save the audience hit "Save" (3) on the right. This will take you to the Activate tab where we will finish off this tutorial.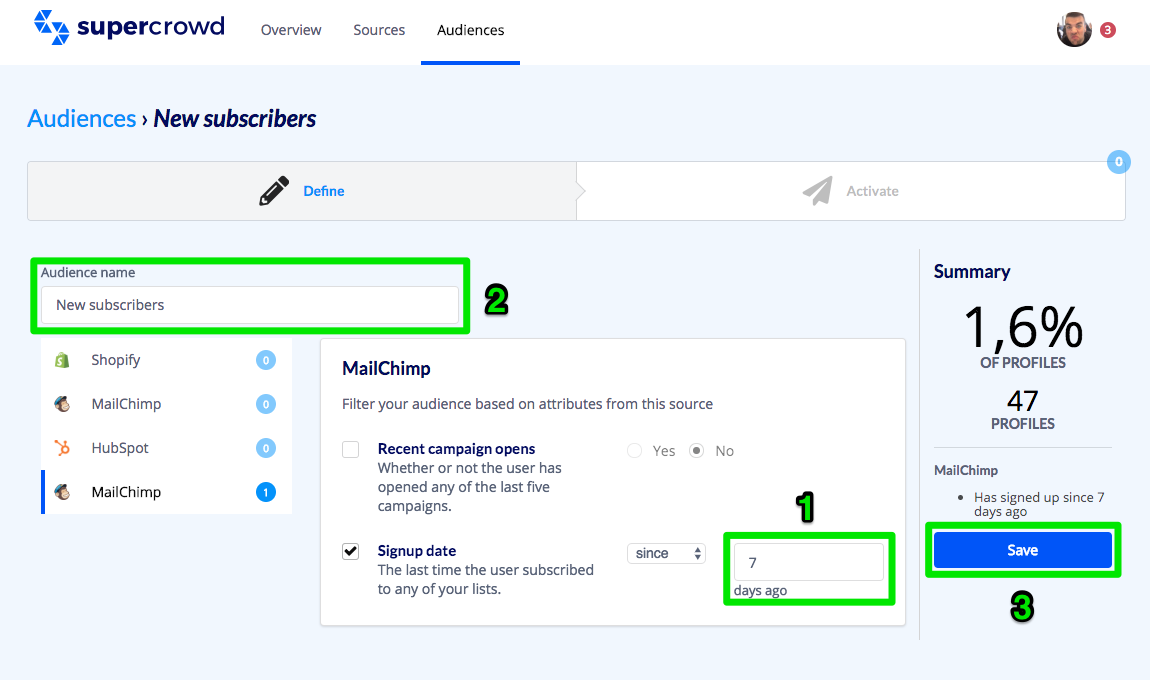 Activate audience on Facebook
In the left pane, click on "Add activation channel" (1) and then "Facebook" (2) if you haven't already added the Facebook account you want to use. Hit "Connect" (3) and choose "Continue with Facebook", this will initiate the Facebook authentication.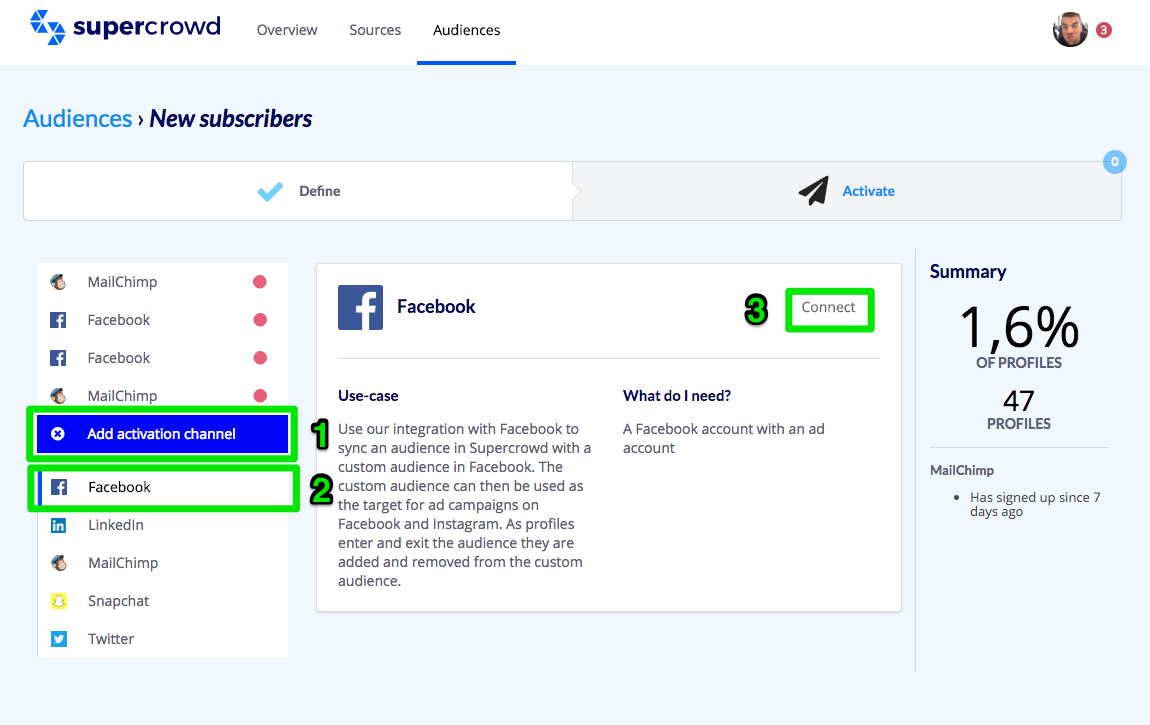 Log in using a Facebook account associated to an ad account to continue. You will be redirected to the account setup modal where you need to enter:
An Ad Account ID that will host the custom audience
Customer File Source that describes how the customer information in your Custom Audience was originally collected
A name for the Facebook account to easily identify it
Once you hit "Save" (4) your audience will be created and synced to Facebook, ready to be used by any of your awesome campaigns. Easy as pie!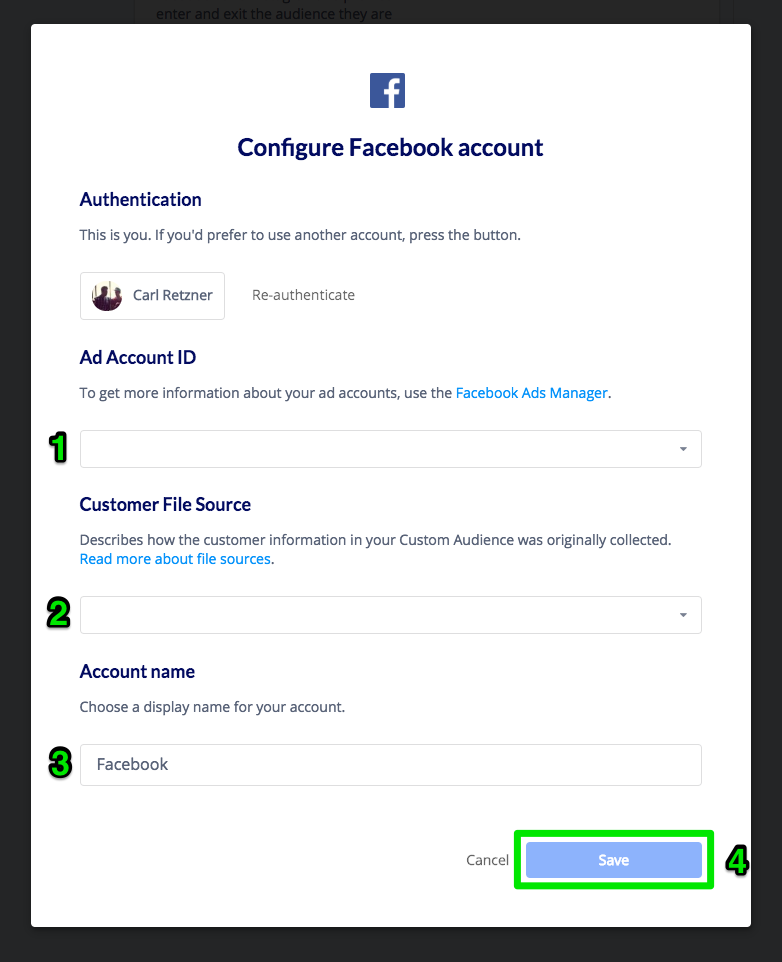 If you have any questions regarding the steps in this tutorial or if you experience any issues the Supercrowd team is eager to help you, send us an email at support@supercrowd.net or use this link to get in touch with us right away!
Have a Super day!
---
---