Widget breakdown: Top audiences
Why?
The Top audiences widget is a feature that gives you insight into your current marketing efforts that can be hard to come by when using the tools themselves. Through feedback and experience we have built a few feedback widgets that will give you a better understanding of your business!
What?
Different platforms have different characteristics and should be analysed differently, that's why each system will have it's own particular widget. Below are in-depth descriptions of all available widgets.
Facebook - Top audiences
Our Facebook tools allow you to create custom audiences that can be used in your campaigns. In the Facebook interfaces it is almost impossible to get an overview of how the audiences are being used. This can lead to duplication and you may even end up creating an ad set that you already had but you just didn't find.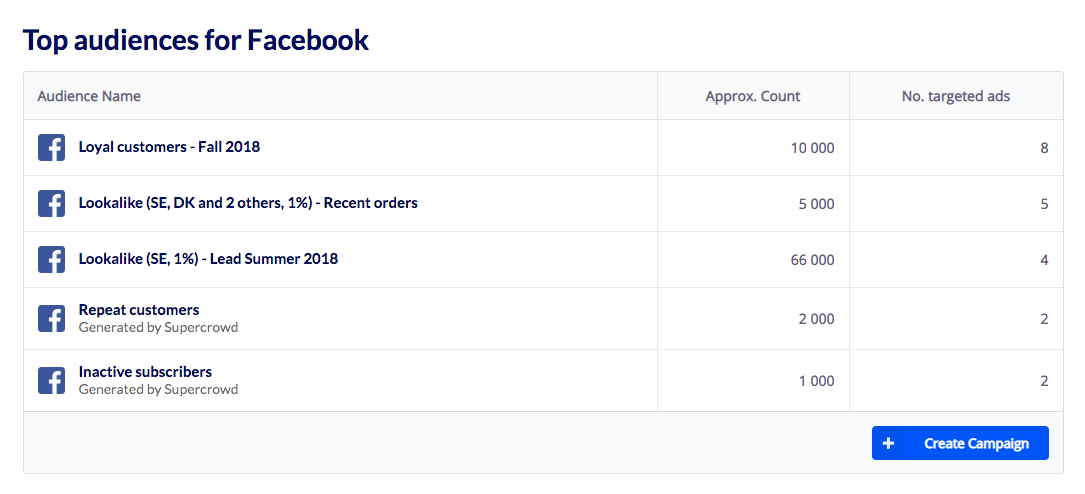 Our widget gives you a quick overview of the top 5 audiences based on active ads they are targeted in and their sizes. It also has a shortcut that takes you straight to the Facebook Business Manager campaign creation view.
| | |
| --- | --- |
| Field | Description |
| Audience Name | Name of audience and description. All audiences created by Supercrowd will have the description"Generated by Supercrowd" |
| Approx. Count | The approximate size of the audience as reported by Facebook |
| Number of targeted ads | The number of ads that are using this audience in their targeting settings |
---
---