Widget breakdown: Account summary
Why?
The account summary widget gives you an at-a-glance overview of your MailChimp account activity. It is designed to give you a quick update without having to go through the fuss of drilling into each MailChimp list and campaign.
What?
The account summary gives an overview of the current metrics from MailChimp and also gives you quick and easy access to specific lists and campaigns. Just click on the name of a list or campaign to open it in MailChimp in new browser tab. It also gives you shortcuts to create MailChimp campaigns as well as new audiences within Supercrowd.
Recent campaigns
The "Recent Campaigns" tab lists your MailChimp campaigns and contains useful links. The "Create Campaign" button opens a new tab for creating campaigns in MailChimp.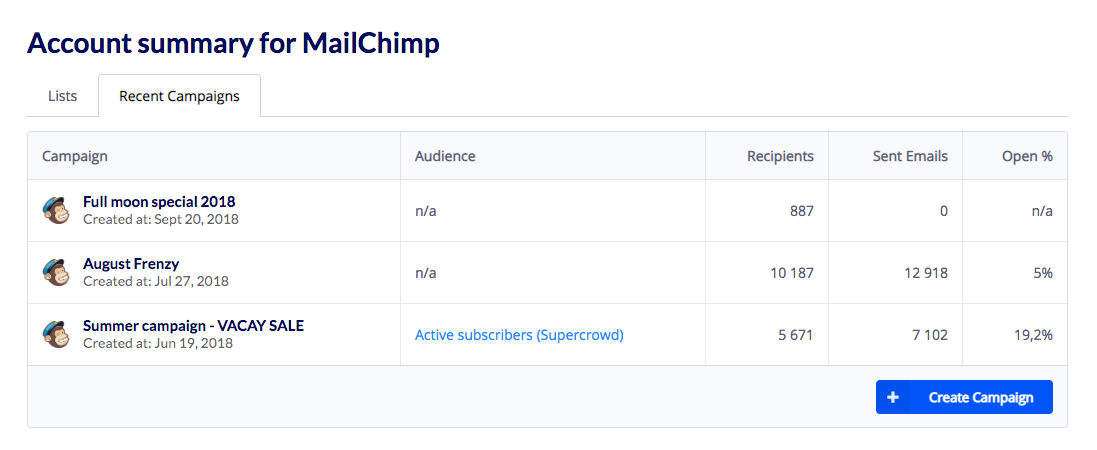 | | |
| --- | --- |
| Field | Description |
| Campaign | Name of campaign and date of creation, link opens campaign in MailChimp. |
| Audience | Shows which Supercrowd audience that was targeted by this campaign. Link opens up definition for the audience. |
| Recipients | Count of the recipients on the associated list. |
| Sent Emails | The total number of emails sent for this campaign. |
| Open % | The number of unique opens divided by the total number of successful deliveries. |
Lists
The "Lists" tab presents your MailChimp lists and contains useful links. The "Create Audience" button takes you to the audience builder view.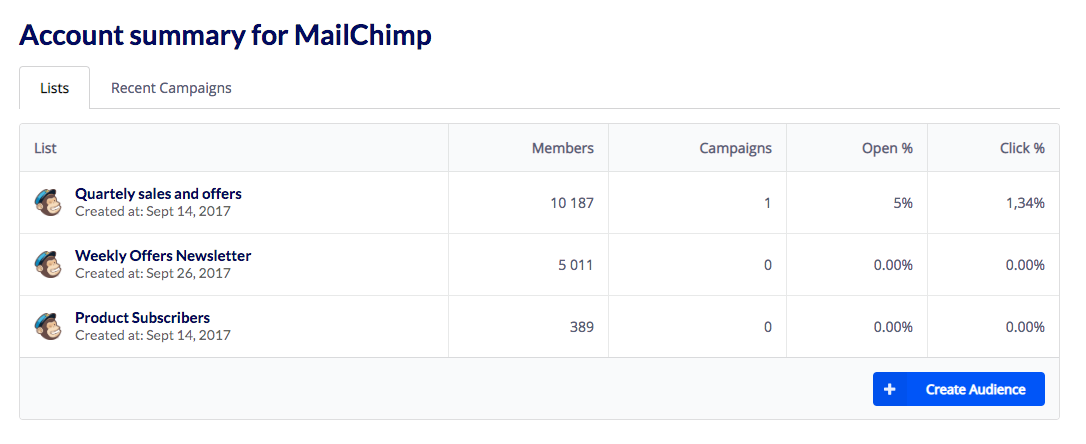 | | |
| --- | --- |
| Field | Description |
| List | Name of list and date of creation, link opens list in MailChimp. |
| Members | The number of active members in the list. |
| Campaigns | The number of campaigns in any status that use this list. |
| Open % | The average open rate (a percentage represented as a number between 0 and 100) per campaign for the list. |
| Click % | The average click rate (a percentage represented as a number between 0 and 100) per campaign for the list. |
---
---